After four in the morning this Wednesday, December 30, and after a long debate and strong negotiations that worsened the text that came from the Chamber of Deputies, the Senate finally voted favorably on the voluntary interruption of pregnancy bill, with 38 votes in favor, 29 against and 1 abstention.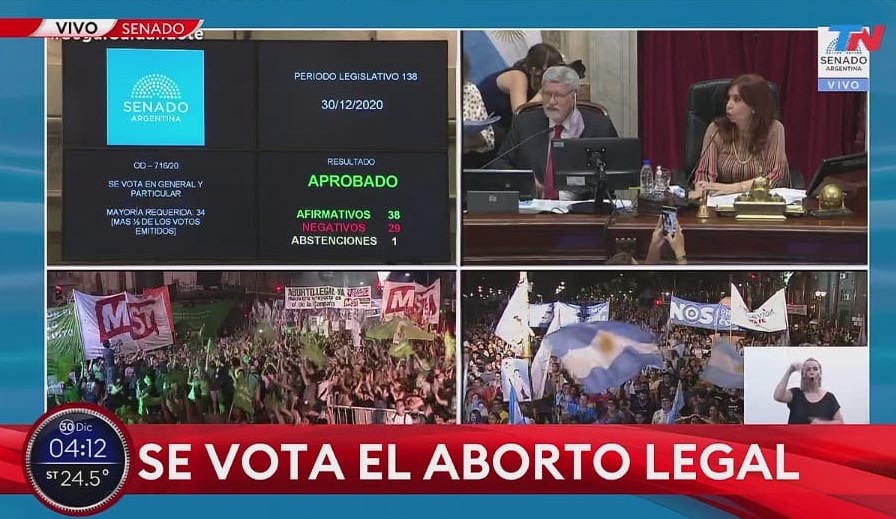 Thousands of women who are part of the powerful green wave anf surrounded Congress during many hours, occupying long blocks towards Corrientes Avenue and towards July 9, celebrated the result of the vote intensly. Songs, hugs, tears and a powerful celebration unfolded among thousands in Plaza Congreso.
Among them and in the first row in front of the fences that surrounded the Congress, the combative column of Juntas y a la Izquierda and the MST permanently agitated during over one day, as was reflected by all the media, and put their songs and their strength in this struggle that was won in the streets.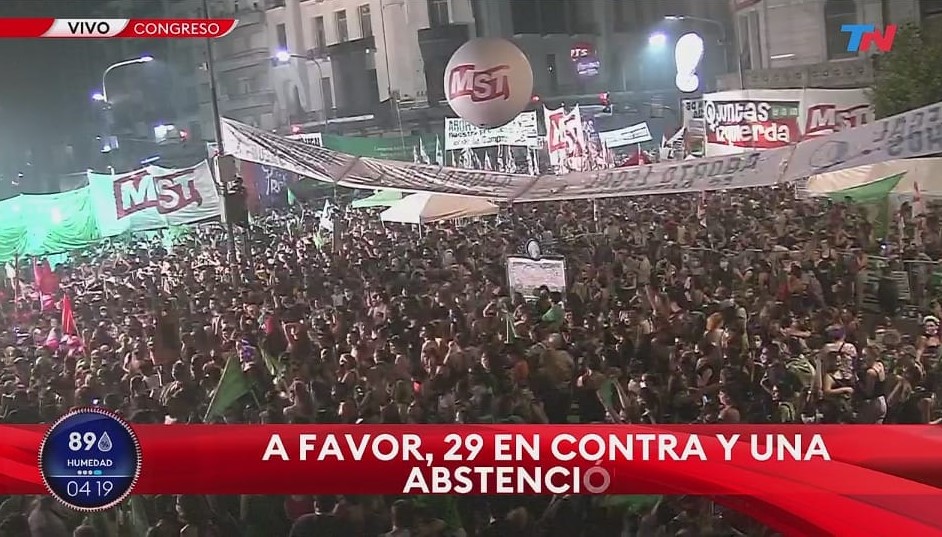 As was known many hours before, the Fernández government and the Frente de Todos, which had already accepted modifications in Deputies that opened the door to institutional conscientious objection, now in the Senate once again yielded to pressure from this den of dinosaurs and to the Church, accepting new modifications and removing words from the text that weaken the rights of all. Despite all these mistaken political decisions, the vote is a victory of the struggle of thousands who have fought for the right to decide for years. Now we will have to continue fighting, again in the streets, for the effective compliance with this law, overcoming obstacles that the text itself enables.
Regarding all this, and after being in Congress throughout this long and emotional day, Cele Fierro, a public figure of the MST in the FIT Unidad, left us her first conclusions:
"If we got here it was thanks to the enormous struggle of the green tide, which twisted the arm of the dinosaur-filled Senate. The Church and the anti-rights politicians have been defeated. However, it is a relative victory because various limitations were introduced as the government gave in. We must be alert so that there is no maneuver and the law is actually applied. Despite the suffocating heat, the fatigue of a huge day and the joy for this enormous step, we will continue to struggle for the genuine right to decide over our bodies, without any type of limitation or penalty. This achievement is also a boost to advance in the necessary separation of Church and State, as well as in the effective application of the ESI and the ILE."
Cele Fierro also expressed herself through a video from Congress:
Public figures of the MST in the FIT Unidad, also expressed themselved on social media:
We share some photos and an image gallery of the final hours in front of the Congress.